Transport for London (TfL) has taken its customer service into the realm of artificial intelligence technology with its first ever 'TravelBot'
TfL says the new social media tool can 'chat' with customers using Facebook's Messenger app – giving passengers service updates and other information – and can learn to become more precise as people use the service. The TravelBot can also link direct to a customer service agent.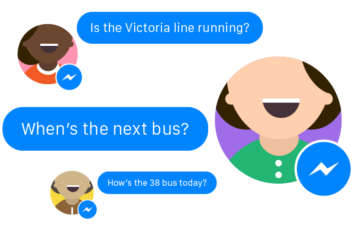 In the announcement, TfL raises the idea of providing customers with 'seamless' online journeys on what might be called multi-modal smart phones.
It suggests that by using a chatbot, 'people can move seamlessly between chatting with their friends and looking up information without having to exit an app and switch to a browser'.
Features of the new service include:
• Bus arrivals – customers can check when their bus is due to arrive by simply sharing their location or providing the bus stop code available at every bus stop.
• Bus route status – customers can ask for bus service updates, including information on bus route diversions
• Service updates – customers can ask for the latest service updates for the Tube, TfL Rail, London Overground, DLR and London Trams
• Maps – the TravelBot can provide Tube, Night Tube and rail maps
• Message an agent – the TravelBot can refer customers to a customer service agent
Shashi Verma, TfL's director of customer experience, said: 'This TravelBot will make it simpler for people using Messenger to get the information they need as they move around the city. We think that this initial version will be a major step forward in how we provide travel information to our customers and we look forward to their feedback to help us improve the product over time.'
When approached by Transport Network for comment, the TravelBot said: 'Hi there, friend!'
Under questioning, it also provided a link to a TfL journey planner.
To access the TfL TravelBot, search for 'TfL TravelBot' on Facebook or visit facebook.com/tfltravelbot/ on a desktop computer.
See original article here: https://transport-network.co.uk/Transport-for-London-launches-artificial-intelligence-TravelBot/14160